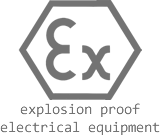 All EX products made by CentroE are certified and in line with the European regulations. All products can be used for electrical fittings located in places with high explosive atmosphere provided that they are used following the local and current installation rules es.: CEI EN 60079-0, CEI EN 60079-14).
The equipment is made following the E.C current security regulations and subject to strict laboratory tests obtaining the security certificate by the official authorities that issue the European community mark (CE) valid in all countries members of the European Community.
The construction of the Ex products follows the international recommendations included in the IEC 79.1 publication.
In order to guarantee a satisfactory performance, products have to be used following the security regulations given by the manufacturer according to the national and local rules for installation and prevention.